New single-family home sales jumped in June, as housing demand was supported by low interest rates, a renewed consumer focus on the importance of housing, and a rising demand in lower-density markets like suburbs or exurbs.
Census and HUD estimated new home sales in June at a 776,000 seasonally adjusted annual pace, a 14% gain over May and the strongest seasonally adjusted annual rate since the Great Recession. The April data (571,000 annualized pace) marks the low point of sales for the current recession. The April rate was 26% lower than the prior peak, pre-recession rate set in January.
The gains for new home sales re consistent with the NAHB/Wells Fargo HMI, which returned to pre-recession highs and demonstrates that housing will be a leading sector in an emerging economic recovery. Consider that, despite double-digit unemployment, new home sales are estimated to be 3.2% higher, through the first half of 2020, compared to the first half of 2019.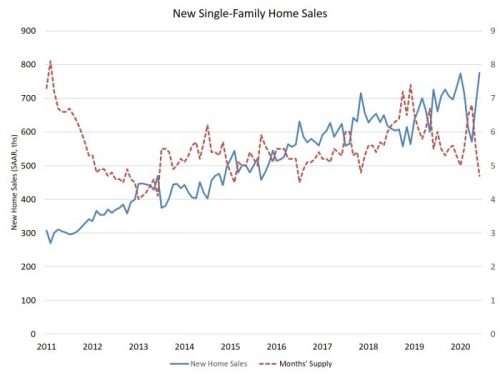 Moreover, pricing firmed in June, with median new home price expanding to $329,200. However, headwinds remain, including elevated unemployment and surging lumber prices, which exceeded their 2018 peak this week.
Sales-adjusted inventory levels declined again, falling to a 4.7 month's supply in June, the lowest since 2016. This factor point to additional construction gains ahead. The count of completed, ready-to-occupy new homes is just 69,000 homes nationwide. Inventory (including homes available for sale that have not started construction or are under construction) is 7% lower than a year ago.
Initial Jobless Claims Rise
Weekly initial jobless claims increased to 1.4 million in the week ending July 18, breaking the downward trend since April 4. Continuing claims, which lags initial jobless claims by one week, declined to 16.2 million the week ending July 11. The increase in initial jobless claims reflected another wave of closures and the pause of reopening procedures in some states as the number of coronavirus cases rises.
The U.S. Department of Labor released the Unemployment Insurance Weekly Claims Report for the week ending July 18. The number of initial jobless claims increased by 109,000 to a seasonally adjusted level of 1,416,000 from the previous week's revised level of 1,307,000 claims. This marks the 18th straight week that weekly initial claims surpassed 1 million. The four-week moving average decreased to 1,360,250 from a revised average of 1,376,750 in the previous week. Weekly new claims brought the 18-week's total to 52.7 million.
Meanwhile, the number for seasonally adjusted insured unemployment (in regular state programs), known as continuing claims, fell by 1,107,000 to a seasonally adjusted level of 16,197,000 in the week ending July 11. It is the fifth week that continuing claims were below 20 million. The four-week moving average declined to 17,505,250 from the previous week's revised average of 18,263,750. The seasonally adjusted insured unemployment rate declined by 0.7 percent to 11.1% for the week ending July 11.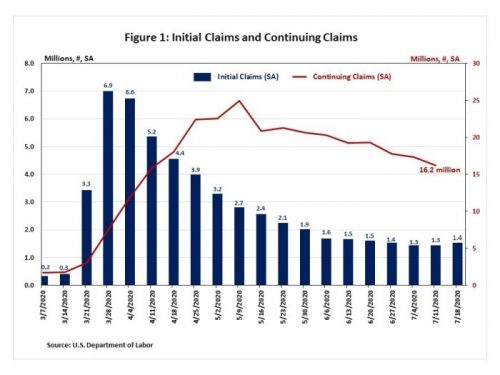 The U.S. Department of Labor also released the advanced number of actual initial claims under state programs without seasonal adjustments. The unadjusted number of advanced initial claims totaled 1,370,947 in the week ending July 18, a decrease of 141,816 from the previous week.
The chart below presents the top 10 states, ranked by number of advanced initial claims, for the week ending July 18. Like the previous week, California, Georgia and Florida still had the most advanced initial claims. California led the way with 292,673 initial claims, followed by Georgia with 120,281 initial claims and Florida with 105,410 initial claims. Meanwhile, South Dakota, Vermont, and North Dakota had the least advanced initial claims across all states.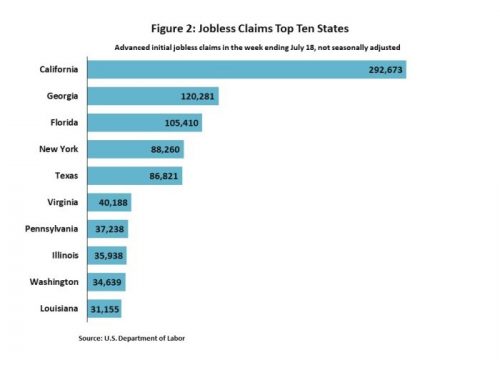 Compared to the previous week, Virginia, California, and Louisiana had the largest increases in advanced initial claims for the week ending July 18. Virginia reported an increase of 7,896 advanced initial claims, California increased by 7,759 and Louisiana increased by 4,804. Georgia (-18,171), Texas (-18,695) and Florida (-27,421) had the largest decreases in advanced initial claims.
Have questions or want to learn more about Lawrence Relocation, email Director of Relocation Services, Ginny Taylor, today!